__________________________ NEW ARRIVALS __________________________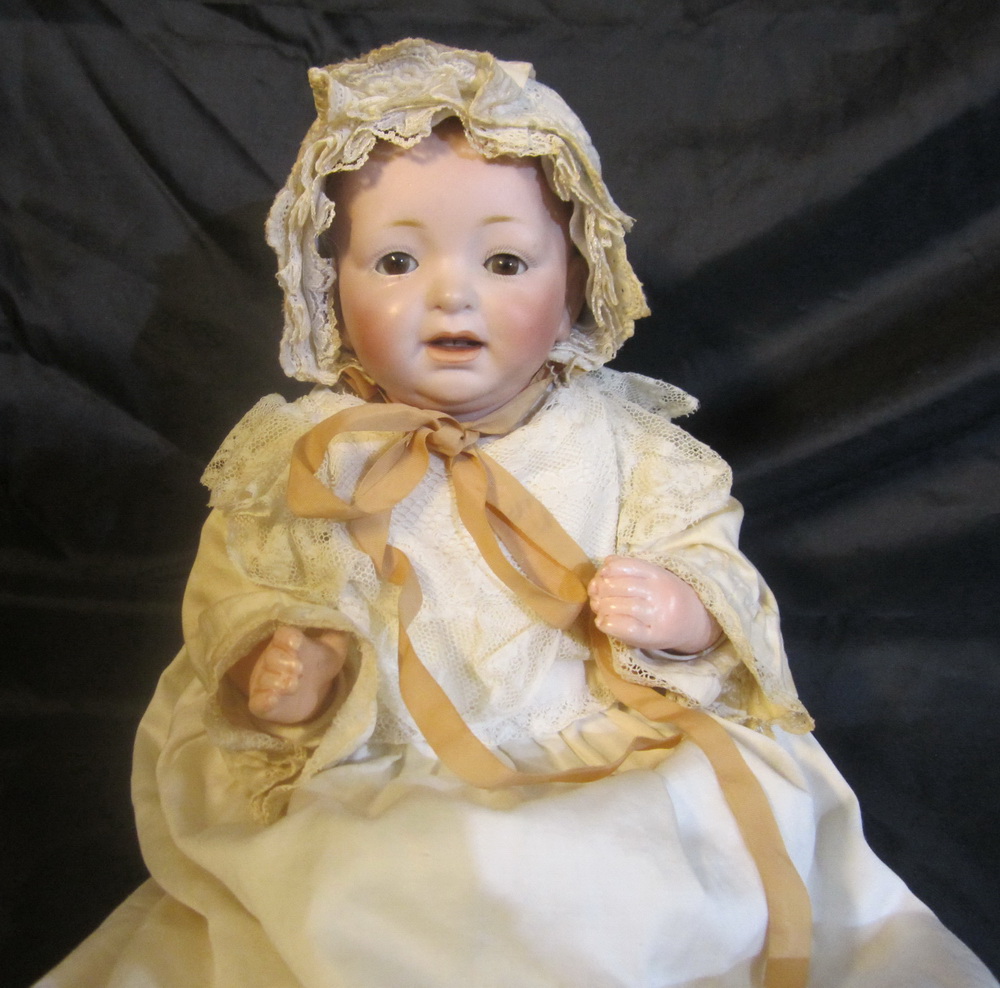 Click for more pictures! Kestner
Lovely Kestner caracter baby, ca 1900. 31 cm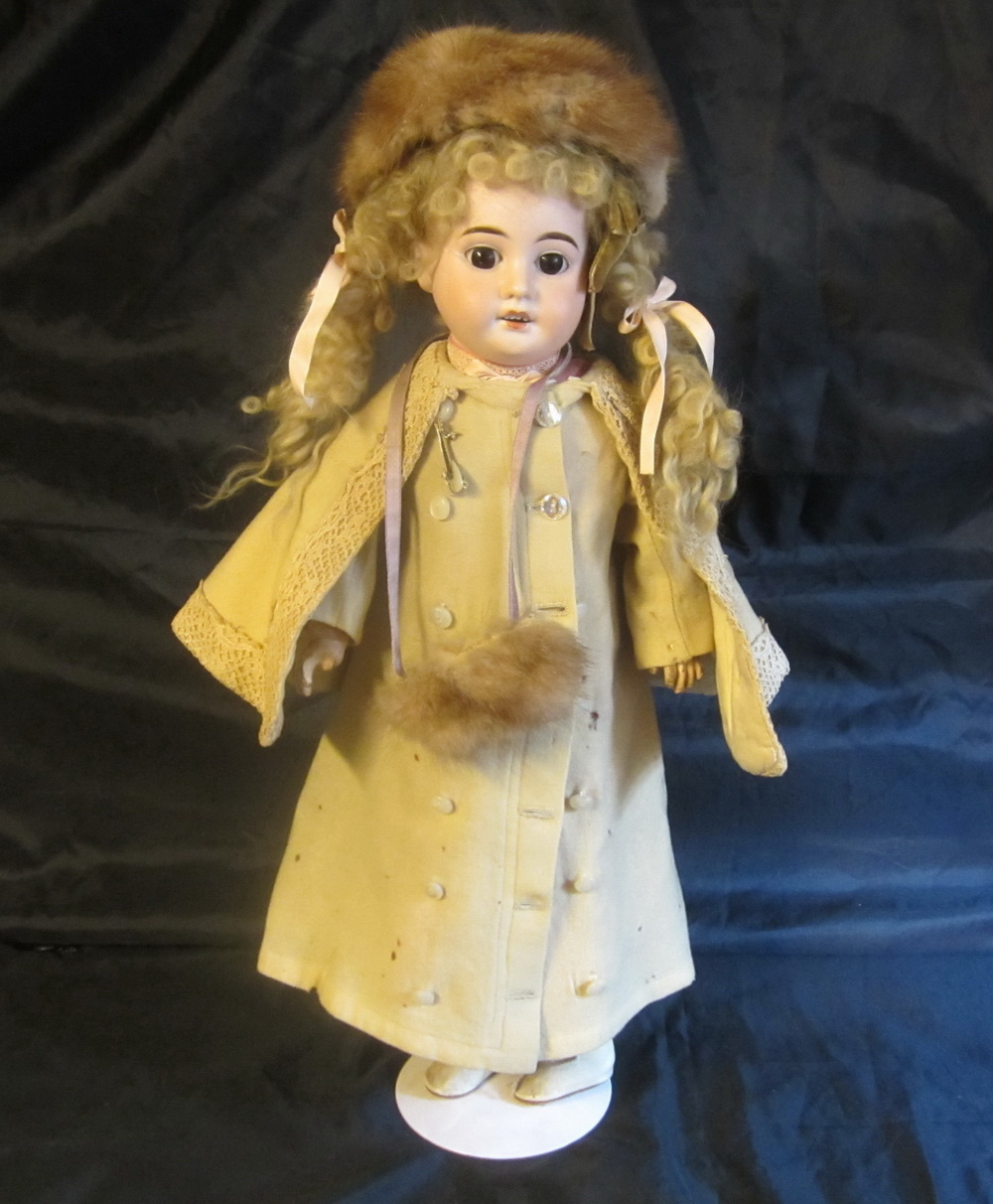 Click for more pictures AM 1894
Lovely Armand Marseille doll, porcelain head with sleeping eyes. 49 cm H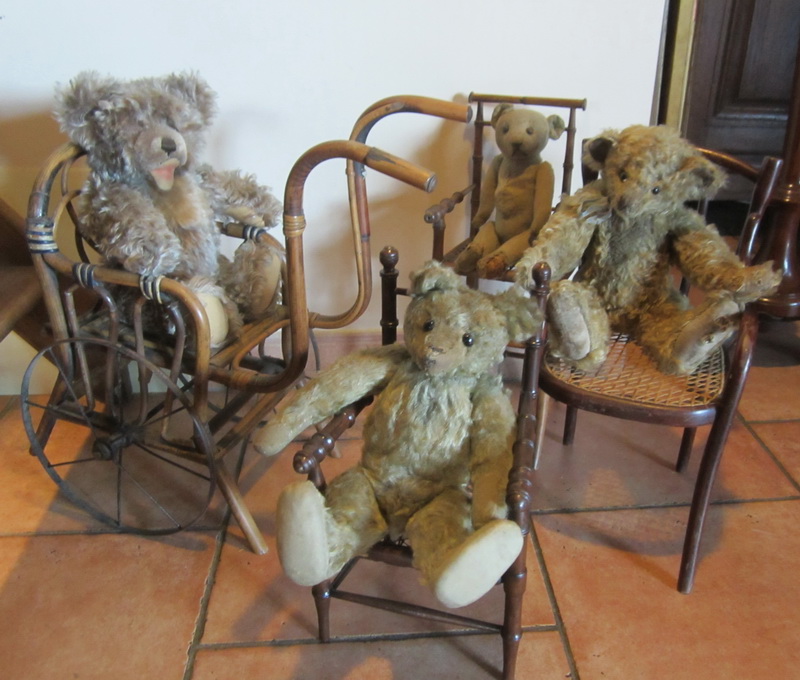 Superb and very rare doll's chair/cart in bentwood, with caned seat. Iron wheels. Some slight signs of age, but still very good condition!! Height of the seat: 24 cm; Total height of the back 42 cm; seat 19 cm wide and 22 cm deep. Early 1900!!


Gorgeous antique chair for dolls or bears!! Very elegant French faux bamboo late 1800's. Chair with caned seat in very good condition, even a little foot rest! One hind foot has a small piece split off, but still stands very firmly! Height of the seat: 10,25 inch / 26 cm; Total height of the back 17,7 inch / 45 cm; seat 5,9 inch / 15 cm wide and 5,5 inch / 14 cm deep.
ca 1880.
Lovely German Zotty bear by Hermann, glass eyes, jointed arms, legs and head. Mohair pluche and felted paws. Good condition! H 19 cm
Unique German block puzzle, paper maché with sound!!! 6 blocks with farm animals: cows, sheep, dogs, rooster, donkeys and goats. Each block makes the sound of an animal. ca 1900
Click for more pictures ! ON HOLD
Gorgeous German doll shop with groceries. ca 1930
Pair of miniature Rauenstein porcelain bowls, wired borders. Diameter 10,5 cm.

click for more pictures
19th century wooden children's chair on wheels! H 72 cm, 36 cm wide and 54 cm deep. H of the seat 24 cm
Beautiful long haired old bear, ca. 1940-1950, 50 cm high; beautiful bear, filled with kapok, normal for some old bears. Cute round head with open mouth.

Lovely pair of doll's vases with dove and fox. Unmarked, ca 5 cm high.
German working doll's desk lamp, celluloid shade, ca 1920's. signed on shade "Germany". High: 6 cm. Light works on battery!!

miniature candlesticks 2
Pair of metal doll's candleholders, ca. 6 cm high.

miniature candlesticks 1
Pair of red copper doll's candleholders, ca. 5 cm high
Doll's or bear's chair ca 1930's, perfect condition. Height: 25 cm, seat 14 cm high. Seat 16 x 18 cm. set of 2 pieces . (M869)
Old Steiff animal: frog, ca 1950; 25 cm long (O726)

Old Steiff animal: dog "Bazi", swivel head ca 1950; 15 cm long (O942)
Old jointed teddy bear, ca.1920, with shoe button eyes. This bear is completely bald. Not working voice. H 31 cm (12,2").
Lovely antique doll's heavy enamelware dinner set with a lovely art nouveau pattern. There are 26 pieces, all original: 6 small plates, 6 big plates, 6 soup plates, a sauce pan, salt or cruets, a tureen with ladle!!, oval dish, oval vegetable tureen and 2 potato bowls!!! It has some minimal wear and chips to the enamel. This is a unique set!!! about 100 years old, exceptional quality and design of this extremely rare 26 pc. antique miniature set!!!!
SOLD
www.ladycantbis.be