antique vintage old bakelite carved jewelry, jewellery, necklace, pendant, brooch, earrings, ring,rings, rose cut diamonds,enamel brooch,pearl,pearls,sapphire, Victorian jewellery, clamper, hinged bracelet, bangles, bangle, tested bakelite
Here you find some pieces of my bakelite jewellery collection and other costume jewellery. All my bakelite jewellery has passed the Simichrome and smell tests!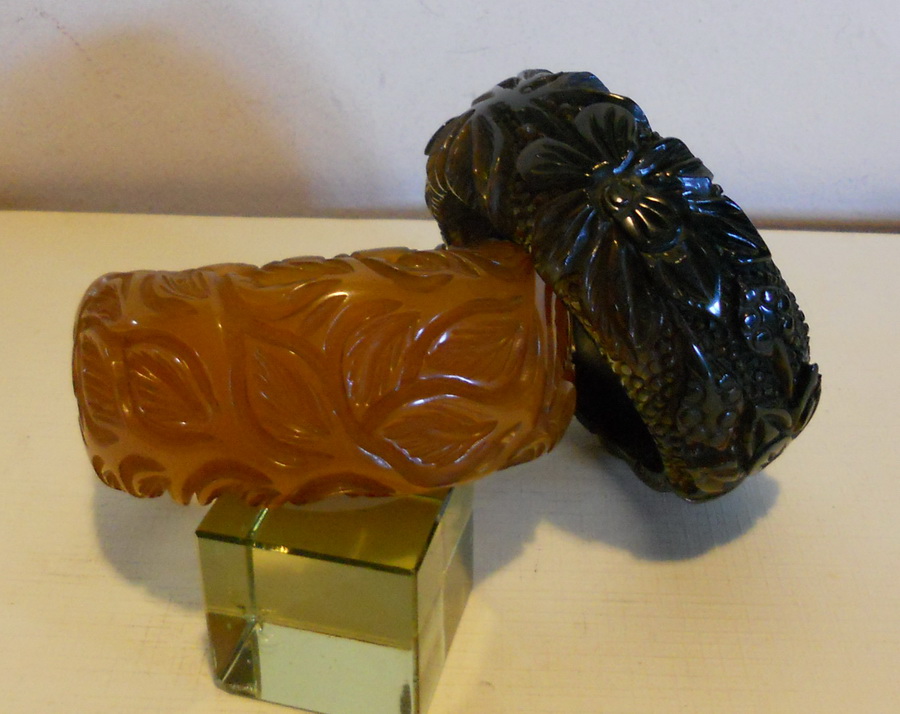 click for more pictures!
Vintage chunky, deeply carved bakelite bracelets. One honey coloured, the other brown/black. For sale separately.
BN2
Old beaded amber coloured bakelite necklace: 60 cm long!! the beads are ca. 1,5 cm long. Bakelite lock. Perfect condition!
Beautiful antique hand cut and hand painted horn brooch of a seagull, 8 cm long. Perfect condition.
Geometrical bakelite art deco ornament, double cape button. Apparently this is a double button used in Scotland to button up a cape with 2 button holes; one on each part of the cape. It could be removed to clean the cape. (Thank you Edith!!)
Vintage dark blue bakelite bangle. This bracelet is 0,59" wide by 0,27" thick. 2,59" inside diameter.

A rare find of French vintage geometric Lea Stein brooches, all authentic and dating from her early period 1968 - 1980. Laminated multi layered and multi coloured stacked triangle brooches in celluloid / rhodoid, of the plastic family. Signed V pin fastener which says: Lea Stein - Paris. Very good condition with the slightest signs of storage. Similar ones can be seen in the Lea Stein book on pages 152 and 153. Size: ca. 8,5 cm x 3 cm. / 3,35 x 1,2 inch.
SOLD