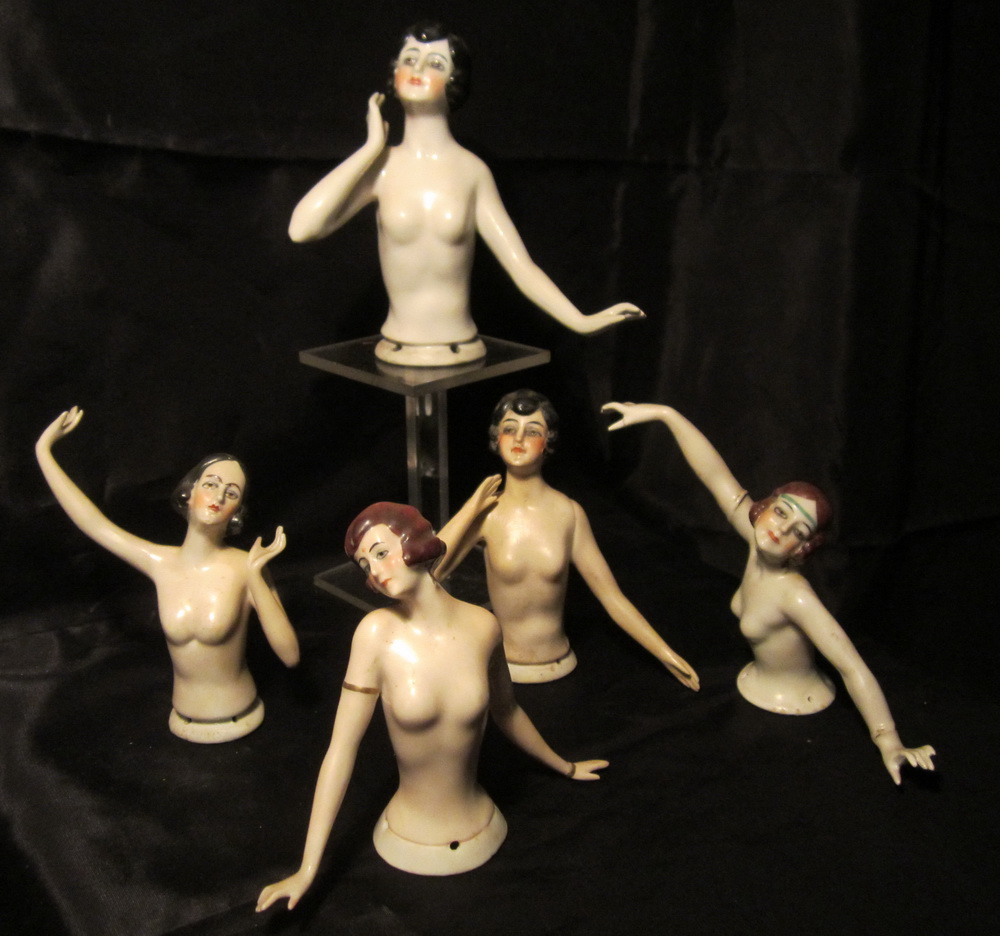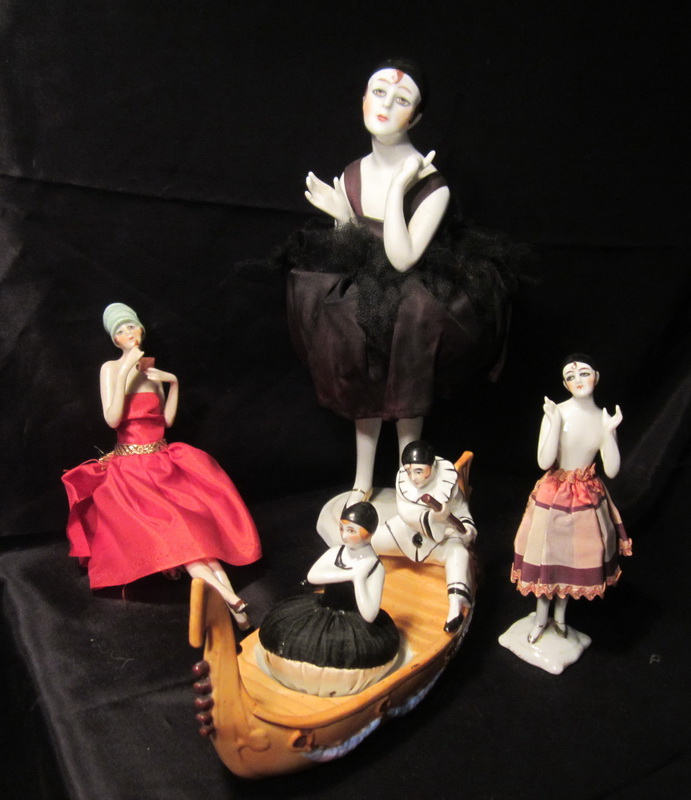 HD43
German half doll, Elzation costume, small chip of one leave of flower, otherwise in perfect condition! H 10,5 cm
HD39


Big half doll, both hands repaired, 6,7 inch / 17 cm
HD34


Carl Schneider; Mark: 5348 Germany. Maker: Carl Schneider, in perfect condition! Height: 10,25 inch / 26 cm
HD33
Carl Schneider, in perfect condition! Length: 7,9 inch / 20 cm; Height: 3,75 inch / 9,5 cm
HD32


Hertwig & co,Condition: perfect! Total Size: 11 inch / ca 18 cm
D316
Dressel & Kister: both hands + flower repaired! 11 cm
miniatures: blond maiden 5 cm; cocoa girl 5 cm; Goebel 5 cm; w fan 5,3 cm; w flower basket 5,6 cm
D311G
miniature half doll, doll's house half doll, Dutch cocoa girl, perfect; H 5 cm
D311F
miniature half doll, doll's house half doll with fan, numbered; flower slightly damaged ; H 5,2 cm
D311E
miniature half doll, doll's house half doll, numbered; H 5 cm
D311D
miniature half doll, doll's house half doll with fan, numbered; fan damaged ; H 4,7 cm
D311C
miniature half doll, doll's house half doll, numbered; perfect ; H 6 cm
D311B
miniature half doll, doll's house half doll with fan, numbered; perfect ; H 5 cm
D311A
miniature half doll, doll's house half doll with feather, feather slightly damaged ; H 5,2 cm
D310
Nude half doll, numbered, perfect; H 12 cm
D309


Nude half doll, numbered, hairline on back; H 11,5 cm
D307
Nude half doll with hair comb, numbered, perfect; H 10 cm
D303


Nude half doll, numbered, both hands repaired; H 8 cm
D300
Nude half doll, nose damaged, H 7,5 cm
D294
Fasold und Stauch garconne, 9,5 cm
D293
Fasold und Stauch garconne, 8 cm; sliver off cone
D292
half doll polka dot bodice, 8 cm
D291
Half doll, fabrication fault under left bow, 6,5 cm
D289
Half doll with cute bonnet, 11 cm
D288
Fasold und Stauch half doll, garconne, rim repaired; 7 cm
D287
Carl Schneider half doll, nr; 8,8 cm
D286

Half doll number Germany, 8,5 cm
D282
Volkstedt half doll, Thuringia; 7,5cm
D280
half doll with blue bodice and hat; 7,5 cm; rim of hat repaired
D279
half doll with yellow flowers; 7,5 cm
D278
half doll with yellow sjawl on blue bodice and pi,k hat; 8 cm
D277


Standing half doll, Pierrette, total height 13,5 cm
D274
Carl Schneider; right pink missing; H 12 cm
D273
perfect condition; numbered; H 10,5 cm
D272
perfect condition; numbered; H 6,5 cm
D271
perfect condition; Nr and Germany; H 6,5 cm
D268


Fasold & Stauch or Schneider, lady with flower basket. Perfect; H 9 cm
D265
Half doll with purse; chip on nose! H 6 cm
D264
Half doll with purse. Perfect. H 7 cm
D255

Mardi Gras half doll, H 6,5 cm, number + Germany, perfect; R hand
D253
H 8,5 cm,number, perfect
D251
H 8,5 cm,number, perfect
D250
Fasold und Stauch garconne , H 7,5 cm, perfect
D249


H 8 cm, tiny chip on back of collar
D247
H 7 cm, nr, tip of bow
D245
H 7cm, perfect; Germany
D244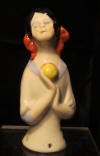 H 9 cm, perfect
D235
Child half doll with hat, numbered; H 5,5 cm
D229
Carl Schneider; L pink missing;nr & Germany; 11 cm
D217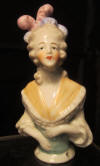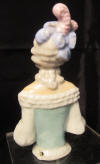 Half doll lady with feathers in hair; H 10 cm
D216


Half doll with rose in hair; H 10 cm
D215
Big half doll with beautiful hat and laced bodice. rim of hat professionally repaired; Fasold und Stauch H 14 cm
D206
Flapper era nude half doll, full figure with bobbed hair: L 11 cm
D205
Fasold und Stauch half doll, garconne with molde jewelry; H 6,5 cm
D204
Bathing beauty with nicks on arms! H 6 cm
D201
bathing beauty, hat repaired!; L 12 cm; H 7 cm
D195



Garconne half doll, Germany and number; right pinky broken off. H 9,5 cm
D193
Hertwig & Co, Spanish lady with castanets; neck repaired, paint flaking; number, H 11,5 cm
D191
Fasold und Stauch garconne, flapper half doll, putting on her gloves, H 10,3 cm
D190
Fasold und Stauch garconne, flapper half doll, H 7 cm
D189
Fasold und Stauch garconne, flapper half doll, H 8 cm
D181
Carl Schneider doll, 6,5 cm H
D180
half doll, Sitzendorf; H 6,5 cm; H 6,5 cm
D178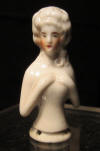 D178 & D 179; right one Fasold & Stauch, 4,5 cm; left one 4,5 cm
D177
Flat relief half doll, make up or evening bag decoration! Arm broken off and professionally repaired. 4 H
D171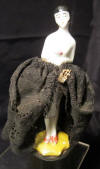 Art deco lady on standing legs, numbered; total 11 cm H; half doll only 6 cm
D170
Petite half dolls, drip catchers etc. , sold separately, H 3 to 6,5 cm
D168


Goebel half doll with fan. Perfect condition! H 13 cm
D166
Bisque half doll, unknown mark. Tiny chip on back of cone. H ca 10 cm
D165
Half doll with regional costume. Something brooken off in het right hand. H 9 cm
D164
Flapper,garconne half doll with bobbed hair. H 9 cm
D162
Vintage Pierrot half doll, number; H 10,5 cm
D156
Half doll, overpainted, unreadable number. H 7,5 cm
D140
Half doll: lady with feathers on head; some petals on flowers missing; prob. Dressel & Kister; H 9 cm
D133
Spanish lady half doll, white bodice, blue hair ornament, chip on back of head; Germany, H 6,5 cm
D132
Lady half doll, both hands off body; hairline on body and chip on conerepaired. number & Germany; H 7,5 cm
D131
Lady half doll, both hands repaired. number & Germany; H 6,5 cm
D126
Half doll pin cushion on standing legs, with original cloth pincushion between body and legs. H 24 cm. Probably mark for Galluba & Hofmann, plus number;
D123
Lady with big hat a little rough on the rim and some chips on the cone, number & Germany. H 9 cm
D122
Lady with big hat, hat repaired and body repainted. H 8 cm
D120
Flapper half doll with rose, bobbed hair. molded earrings. H 6 cm
D118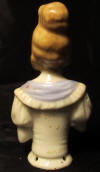 Lady with fan; numbered. H 7,5 cm
D117
Duth girl with cap; number 5870 and Germany; H 6,5 cm
D116
Lady with fan; numbered. H 6,5 cm
D114
Half doll with fan and ribbon in hair. Fan repaired and chips on cone. H 9 cm
D112
First communicant with candle and missal, nose chipped, nr 13965; H 8,5 cm
D110



Garconne, flapper half doll: lady wearing a cute costume. No wig! Head glued on!! 'Germany' H 9,5 cm
D105
Flapper lady lying on cone; chip on heel of left shoe. H 9,5 cm.
D94





Pierrot w mandolin, repaired and completely re painted, paint peeling off. H 10,5 cm
D89
Adorable bisque child doll with flowers and big Victorian hat, H 12 cm
D88
Lady with white bodice and high hairdo with rose H 10 cm
D86
lady with red necklace and flowers, 'Foreign' and nr. H 8,5 cm
D81
lady with feathers oin her hair, L hand repaired H 17 cm!
D77
flapper with bobbed hair; H 9 cm
D61
nude in bizar pose; H 6,5 cm
D58
vintage half doll brush, Japan, total height 21 cm, bust ca 10 cm
D50



Pair of porcelain dolls w legs, on metal chairs; H 13 - 15 cm
D48


Porcelain child half doll with flower garland; Germany, H 6 cm
D44
Bisque nude jointed half doll with black mohair wig; H 11,5 cm
D38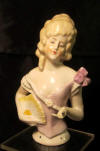 Lady with fan; H 12,5 cm; left hand repaired
D17
Pair of porcelain dolls w legs, on metal chairs; H 17 cm
D5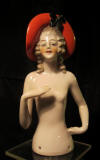 Nude lady with red hat, perfect; H 15 cm
D3
Nude bisque lady; Goebel or Schmidt; H 15 cm
SOME OF MY SOLD BEAUTIES:
ETSY: in dollars, zonder shipping
D1 125 / D2 135 / D3 135 / D4 145 /D5 145/ D 7 75 / D9 95 / D11 85 / D 12 75 / D15 155 / D16 25 / D17 350 / D18 145 / D19 125 / D20 200 / D21 225 / D22 120 lot / D28 55 / D30 85 / D35 35 / D38 125 / D42 175 / D43 75 / D44 175 / D45 35 / D48 85 / D49 apart / D50 350 / D52 75 / D53 75 / D55 95 / D61 125 / D66 125 / D69 135 / D75 115 / D76 165 / D77 145 / D78 195 / D79 295 / D81 225 / D82 195 / D84 395 / D86 95 / D88 125 / D89 300 / D90 300 / D92 75 / D94 65 / D96 195 / D97 95 / D98 95 / D99 125 / D101 150 / D103 295/ D105 135/ D106 125 / D107 145 / D 109 135 / D110 95/ D112 165 / D113 35 / D114 125/ D115 85 / D116 85 / D117 85 / D118 95 / D119 145/ D120 130 / D121 95 / D122 95 / D123 145 / D124 145/ D125 225/ D126 325 /D127 295 /D128 135 / D130 85 / D131 35 / D132 55 / D134 225 / D135 125/ D137 115 / D138 65 / D139 65 / D140 165 / D142 300 / D143 155 / D145 130 / D146 130 / D147 130 / D148 425 / D149 11?5 / D150 135 / D151 65 / D153 145 / D154 135 / Dset 2 st 350 ; 1 st 175 / D155 150 / D156 75 / D157 175 / D158 65 / D159 155 / D160 165 / D161 195 / D162 45 / D163 35 / D164 130 / D165 45 / D166 225 / D167 175 / D168 225 / D169 275 /